Resonating Bodies
Sculpture exhibition in castle park 18 June-11 September
Earthy layers on the pebble ridge. A large pink castle. A historic place. A park landscape. The Sculpture exhibition Resonating Bodies capitulates to the fact that the castle park is historically charged and difficult to grasp. Seven artists and artist groups are invited to participate in the exhibition and their work can be seen as enhancers of the area and all the life that goes on here. It's both about orientation and finding historical sightlines, as well as sensing how one's own body also relates to the earth as a vast celestial body.
The term Resonating Bodies seeks attention to the reciprocity that exists between pollinators and plants and all the ecosystems that are threatened and need to be protected. And maybe this type of "resonating" can also be transmitted to humans, psycho-social relations and their need to be nurtured and cared for. The exhibition encourages discovery, play and interaction, but also listening and sensing for what is not seen and heard at first sight. Through audiovisual compositions, Resonating Bodies resonates as echoes of the place and the creatures that inhabit it.
Curator: Rebecka Wigh Abrahamsson, Uppsala Art Museum
The exhibition is part of the series Summer around the Castle 2022.
Artists
Jan-Erik Andersson & Shawn Decker
The Nest, 2022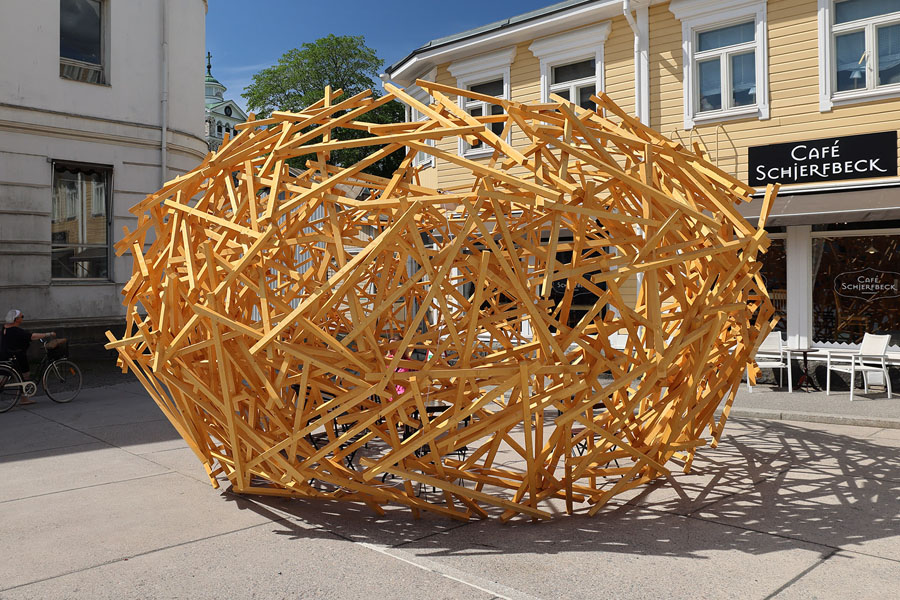 Jan-Erik Andersson draws architectural principles from birds' nest boxes. Wooden sticks are joined together in triangles, whose modules form a structure, in an organized chaos. The artwork has been erected in several places and now it's displayed in Uppsala as well. The nest highlights the bird life in the park while this different architectural form interacts with the castle as an enormous protective structure. In the room, visitors can have a snack while listening to the sound installation, by Shawn Decker, whose repetitive composition can be compared to an ornament.
Jan-Erik Andersson is a member of the performance group Edible Finns and artistic director of AmosLAB. Andersson's best-known work is the total artwork Life on a Leaf, where he lives with his family. The house, which is the result of a collaboration with Pitkäranta, was the subject of his 2008 doctoral thesis in visual arts at the Academy of Fine Arts in Helsinki. He is a lecturer in visual arts at the Academy of Fine Arts in Helsinki and his work has been exhibited in numerous countries, including Finland, Sweden, Norway, Brazil and the USA.
Shawn Decker is a composer, artist, and teacher who creates sound and electronic media installations and writes music for live performances, film, and video. He is a Professor in the Departments of Art, Technology and Sound at the School of the Art Institute of Chicago and his recent exhibitions of both solo and collaborative works have been shown at venues including the Kiasma Museum in Helsinki, Museum of Art and Design in New York, Victoria and Albert Museum in London, 2003 Biennial of Electronic Art in Australia, 21st Century Museum in Kanazawa, Japan; ISEA2000 Paris and many others.
Neighbours of Architecture
Line of Sight, 2022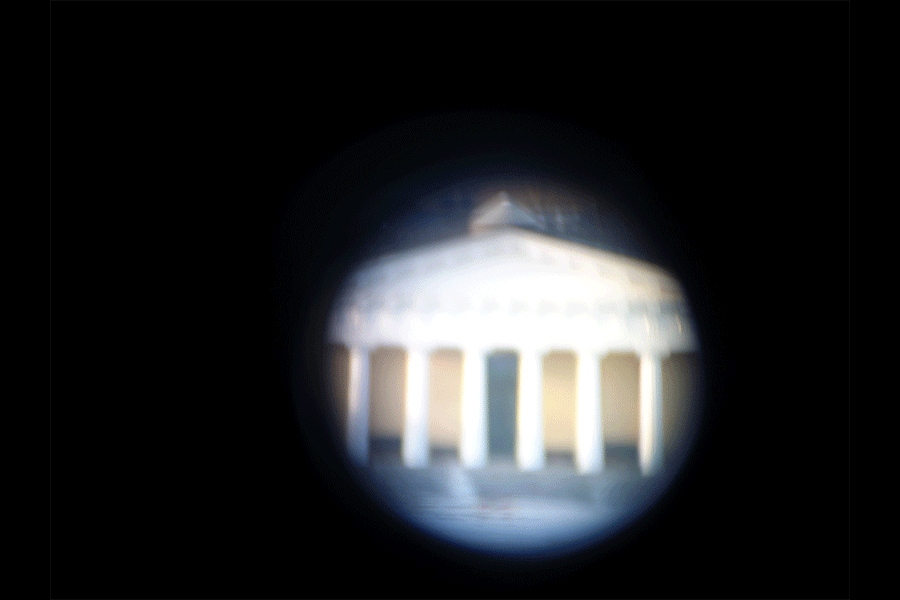 Listen to sound clips, Neighbours of Architecture.
A straight line cuts through the antique city of Paestum (ca 500 BC) and the row of doric columns in front of Linneanum (1807 AD), up to your eye. It follows the visual order which this work concerns. Line of Sight consists of an audio track and an optical sculpture based on the view between the castle and the Botanical Garden. It accentuates a type of collective gaze, to show how it is constructed – in history, in the landscape, and in the viewer.
Architecture's Neighbours is led by the architect Björn Ehrlemark and the curator Carin Kallenber. They produce and stage architectural culture in the forms of exhibitions, events and publications. The duo is interested in urban planning and architecture beyond design and construction. Neighbors of Architecture began with a series of public talks in the indoor jungle of the Palm House in Gothenburg and today has developed to work with institutions such as Konstfack, FFAR - forum for architecture, Svensk Form, Art Academy and Architecture School KTH in Stockholm.
Sahar Alkhateeb
The Parts Of Our Bodies We are Told to Hide, 2022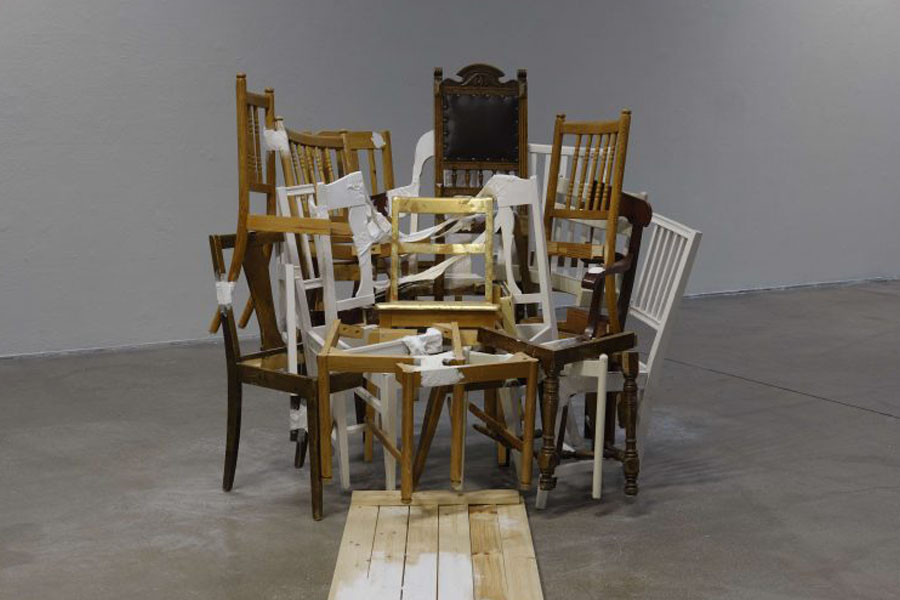 Artist Sahar Alkhateeb is a studio grant holder of Uppsala Municipality's newly graduated artist program 2022. Born and raised in Palestine, Sahar Alkhateeb uses secondhand furniture to explore the individual's relationship to the group and the confines of the home. Furniture is deconstructed and reassembled into new shapes and patterns that bear witness to both body memories and psychosocial wounds.
In collaboration with the Newcomers Youth group of RFSL Uppsala, Alkhateeb is going to conduct a workshop together with local and newly arrived LGBTQI+ youth from Uppsala and Håbo to reflect on how the castle park in its national romantic design can represent both protection and symbolic violence. The furniture here becomes a contrast to the closed shape of the castle, a representative of the individual and the life that continues over the centuries.
Sahar Alkhateeb has a Master's degree in Fine Arts from University of Arts, Crafts and Design in Stockholm (Konstfack) and a BFA from International Academy of Art i Ramallah. They have previously exhibited at Malmö Art Museum, Växjö Konsthall, Göteborgs Litteraturhuset and Konstnärshuset Stockholm. Sahar Alkhateeb´s upcoming solo show The Presence of Absence will be shown at the Uppsala Art Museum between August 20th and October 2nd.
Åsa Stjerna​
Earth Song, 2022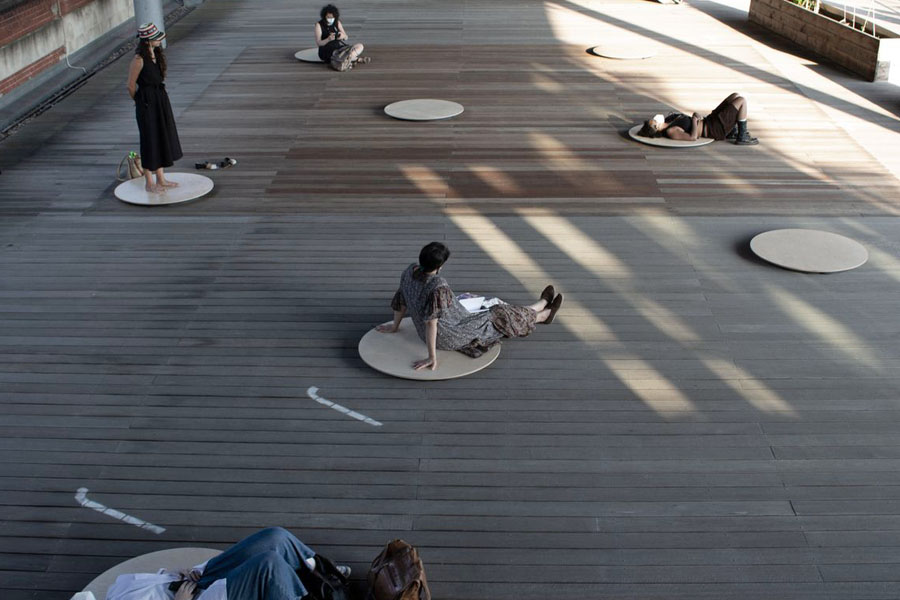 Deep beneath the ground we walk on, the earth is constantly moving like almost imperceptible but ongoing vibrations. The earth is "singing". Artist Åsa Stjerna brings this song to life with the sound installation Earth Song. Through an interdisciplinary collaboration of scientists and experts, real-time data from seismic monitoring stations all over the world are redirected and transformed. Each speaker in the work - hidden beneath wooden panels that the visitor can sit or lean against - represents a specific place in the world. Different places in the world blend into each other in the sound installation, sometimes as lone voices and sometimes as ensembles. The installation becomes a tactile and meditative space, a room of its own in the park that invites the visitor to listen to a natural phenomenon that cannot normally be perceived.
In collaboration with:
Geophysicist Björn Lund and Research Engineer Michael Schieske, Department of Earth Sciences, Uppsala University: (scientific expertise).
Andre Bartetzki, Berlin (programming and sound design).
Manfred Fox, Fox engineering, Berlin (technical concept and implementation)
Stations and countries:
Salta, Argentina
Ammassalik, Greenland
Manteigas, Portugal
Stuttgart, Germany
Windhoek, Namibia
Kangasniemi, Finland
Mazada, Israel
Naypyitaw, Myanmar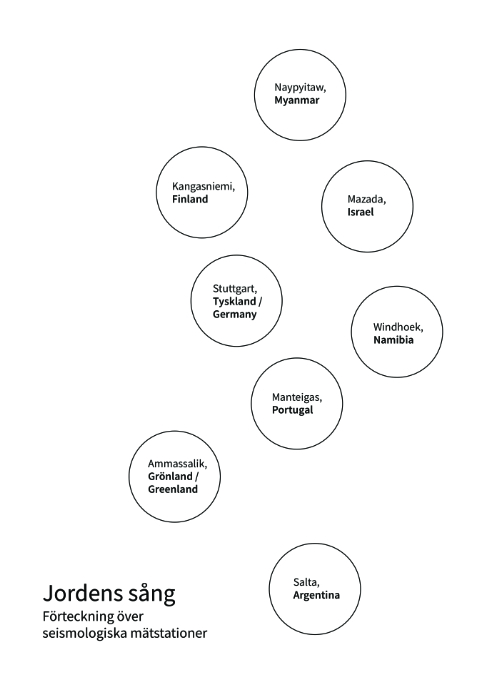 Åsa Stjerna is a sound artist who completed her Ph.D. in artistic research at the University of Gothenburg in 2018. Her approach is interdisciplinary and explores how collaboration between science and art can establish new forms of listening that deepen our relationship with the world around us. Her art is represented at reclaimed museums such as The British Museum, Great Britain; Nationalmuseum, Sweden and Moderna Museet, Sverige. She has conducted permanent installations internationally and in Sweden.
Alvaro Campo
Real time, 2018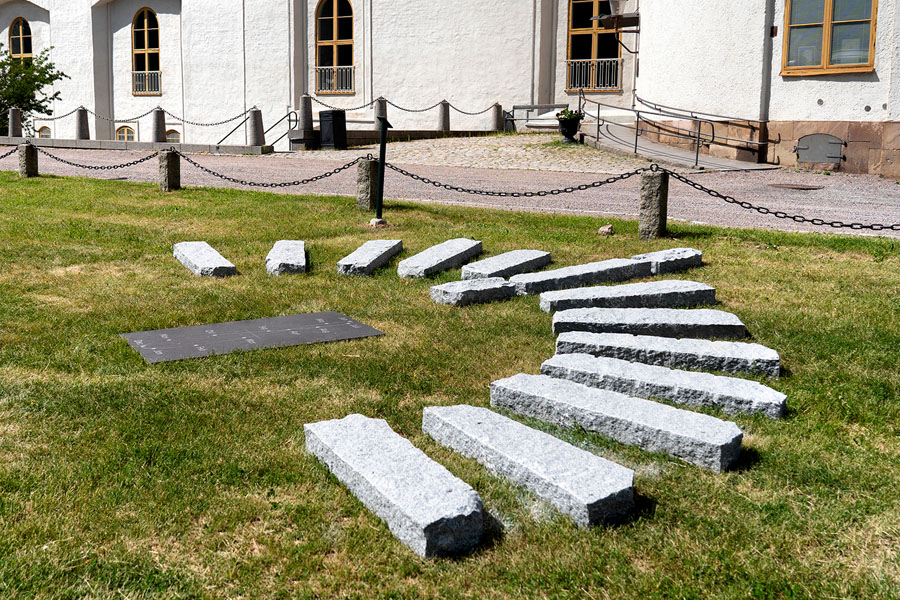 The artist Alvaro Campo's work is based on everyday perception and the recording of changes in light, shadows, seasons and weather phenomena. Trained as a photographer, he has adopted photographic working methods and questions, but has largely left the two-dimensional surface behind. The installation, Real Time, was shown in connection with an exhibition at Uppsala Art Museum in 2020. Through mediums such as photography and installations the concept of time was explored. "The measure of change", is for instance Aristotle's way of explaining that time is a measure of motion, such as the movement of the sun in the sky.
Here's how you can use the Real Time artwork to see what time it is: Stand on the sundial and place your feet on the current month. Stretch your arms upwards and let your shadow fall on the marker. The centerline corresponds to 12.00 CET. The markings to the left of the centerline are the morning hours and the markings to the right are the afternoon hours.
This sundial was first created for Ulvhälls Hällar, a sculpture park in Strängnäs. In spring 2020 it was moved to Uppsala.
Alvaro Campo is an artist based in Stockholm, he is educated at the International Center of Photography in New York and at the Royal Institute of Art in Stockholm. Alvaro Campo likes to think of art as a form of research and he is interested in the mediation of the senses by technology and how this influences human beings' everyday experience and their relationship to the physical and natural world.
Ingela Ihrman
Landscape Comes First, 2022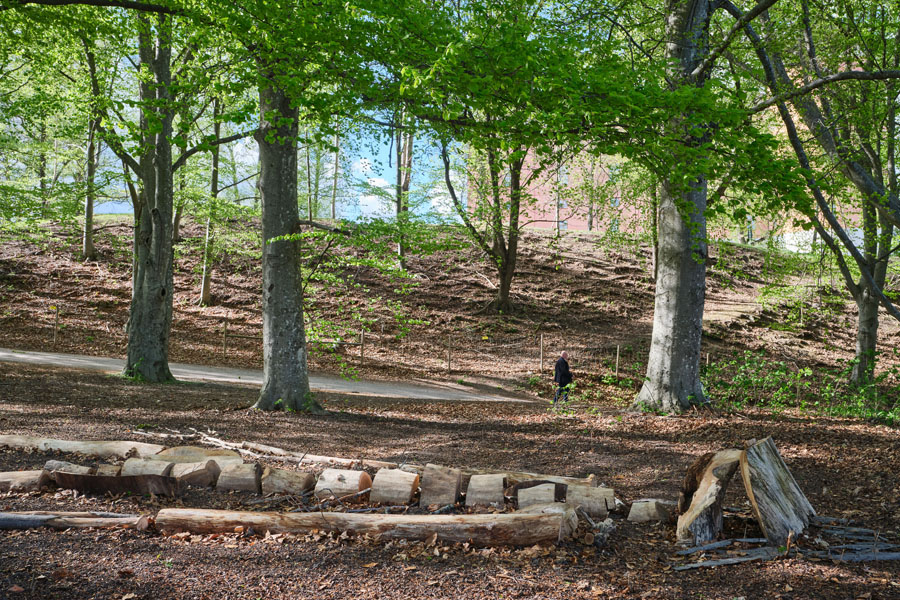 Landscape Comes First is a skeleton made of sticks, branches and logs from dead elms that have grown in the castle park. It is located directly on the ground in a small forest grove with beech trees on the south side of the ridge. No material has been added or must be taken care of, destroyed or recycled at the end of the exhibition. The sculpture is instead a reorganization of existing material that has been arranged in a way that creates new meaning.
The intentions and the significance of the work might remain a mystery, but it also invites various associations. Is it an archaeological excavation of a giant's grave, a Hügelkultur mound bed for future cultivations, an outdoor lesson in human anatomy or a sick stick figure in infected elm wood? The title expands the time axis of the place and is reminiscent of a time before the castle, the Vasa kings and the university, when the landscape was shaped by masses in motion.
Ingela Ihrman's work is sparked by the strong emotions of everyday life and a desire to understand, question or express certain aspects of being alive, social and human. Her practice includes sculpture, installation, performance, video and writing as well as collaborations within the fields of science, theater and dance.
Ingela Ihrman has a Master's degree in Fine Arts and Art in the Public Realm from Konstfack, Stockholm. In 2019, she represented Sweden in the Nordic Pavilion of the Venice Biennale. She has participated in international and national exhibitions such as the Yokohama Triennale, Art Lab Gnesta, Moderna Museet and Tensta konsthall. She also participated in Revolve Performance Art Days 2022 in Uppsala Art Museum this year. The sculpture was made with help from artist Frida Peterson and arborists from Uppsala kommun.
Anna Nyberg
It could be as, 2022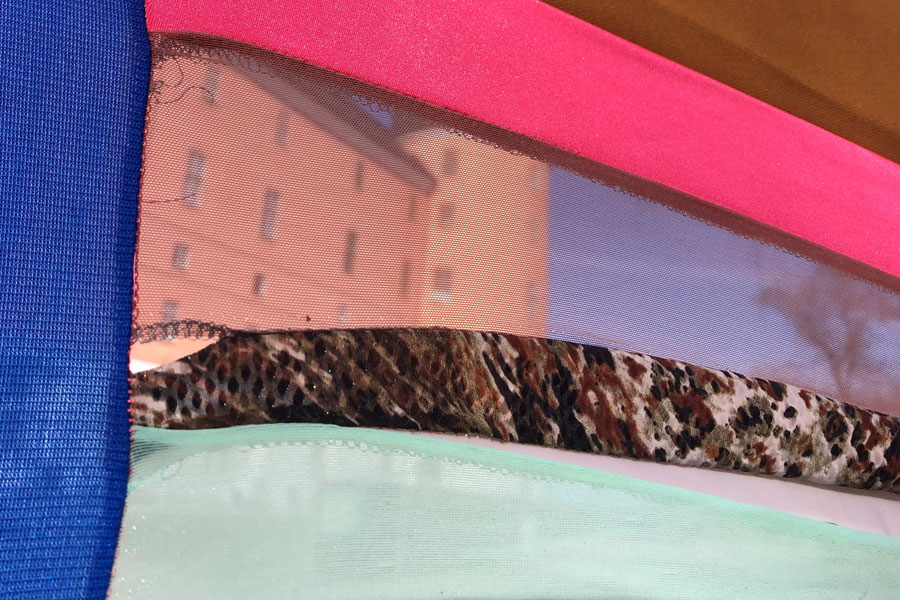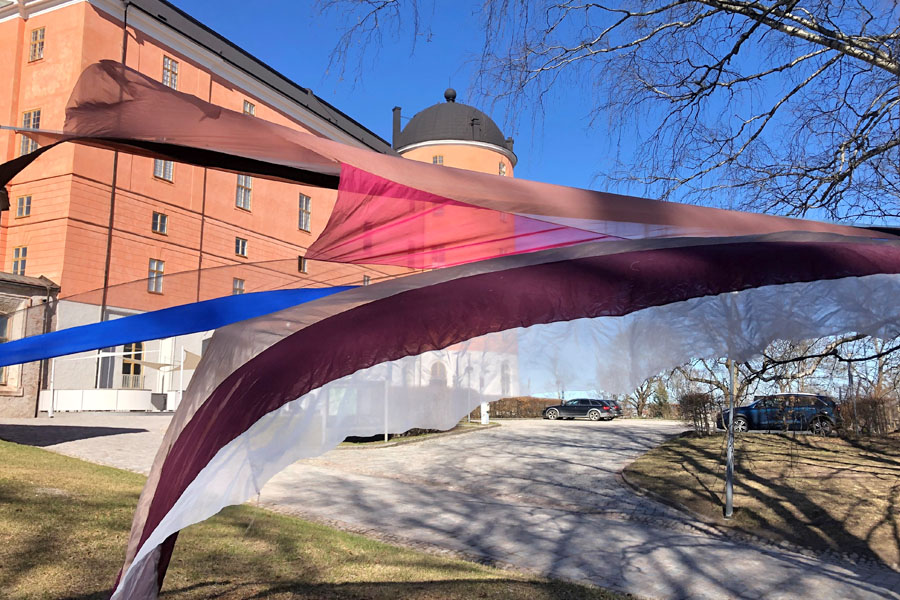 The artist Anna Nyberg uses transparent fabrics, ribbons and wires in an extended drawing practice that may be associated with standards, sails, but also abstract painting. For the exhibition, she has worked with middle-school children to create a three-dimensional painting that will be installed in a tree grove. Fabric, wire and rope are stretched between trees and against the ground, creating new spaces for the visitors to enter and experience the artwork with body and mind.
Anna Nyberg is a Stockholm-based artist who challenges two-dimensional paintings with three-dimensional works which allows the visitors to experience the art through mind and body. Her main interest is the gap and differences between physical reality and the inner experience. She has a Master's degree in Painting from University of Arts, Craft and Design (Konstfack) and her work has for instance been exhibited at Uppsala Art Museum, Västeras Art Museum, Norrtälje konsthall and Charlottenburg Palace at Copenhagen.