Ingrid Skerfe-Nilsson in meeting the present
In the 1960s, the Uppsala artist Ingrid Skerfe-Nilsson's rya rugs were seen in many homes. With their expressive bright colours, her rugs were eye-catching features on walls and floors. This is the first retrospective exhibition of her entire oeuvre and practice. It also relates her works to three of our most interesting contemporary textile artists – Malin Bobeck Tadaa, Lea Constan and Maja Michaelsdotter Eriksson.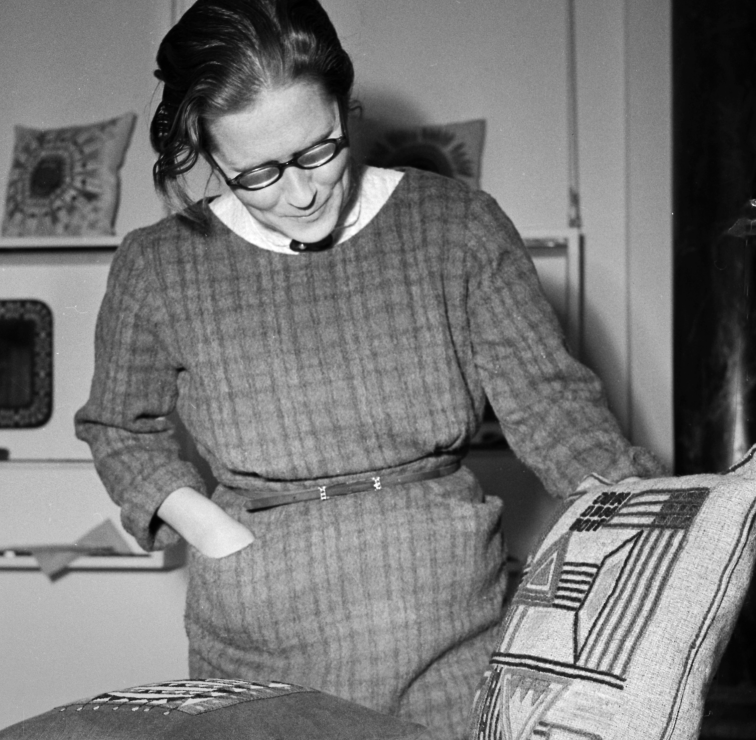 Ingrid Skerfe-Nilsson (1918-2004) was a textile artist with her own studio in Uppsala in the 1950s. She also ran her own shops, which sold her rya rugs, embroidery and other objects. Her designs were available as material kits so customers could knot their own rugs.
Between tradition and innovation
Ingrid Skerfe-Nilsson took inspiration from modern art and combined it with a profound understanding of textiles in her design and art practice. This made her one of the most successful Swedish artists of the 20th century. For Ingrid, it was essential to have one foot planted firmly in tradition while liberating herself from it. With their expressive bright colours, her rya rugs added an eye-catching feature to the walls and floors of Swedish homes.
The textile heritage is passed down
The contemporary artists in the exhibition, Malin Bobeck Tadaa, Lea Constan and Maja Michaelsdotter Eriksson, also use textiles in their artistic practices. Maja Michaelsdotter Eriksson's tactile tufted works of art are made with carpet weaving techniques. But Maja instead creates sculptures and installations. Lea Constan's tapestries express contexts that she is somehow a part of, and in a truly contemporary spirit, they are woven digitally. Malin Bobeck Tadaa's interactive and dazzling works with fibreoptic elements conjure up alternative worlds for us to experience. Today, textile materials and techniques have been adopted by man y artists in their practices, but this area also has its very own traditions and innovations.
Expanding material boundaries
Ingrid Skerfe-Nilsson was active in a modernist era, where design and art played a vital role in forming society and individuals. Textiles were a natural feature in both public and domestic environments, as interior design and as art. Ingrid Skerfe-Nilsson was inspired by modern art and searched for a more expressive style in her later works. Malin Bobeck Tadaa, Lea Constan and Maja Michaelsdotter Eriksson have followed in her footsteps and continue to challenge the boundaries of textile art and its areas of application.