About the artists
In the exhibition A Posthumous Journey into the Future, eight internationally active artists together explore Sten Eklund's Kullahuset series. Here, you can more about who they are.
Imani Jacqueline Brown (UK/US)
Artist, activist, and architectural researcher from New Orleans, based in London. She is interested in questions about extractive environmental and economic systems, from settler-colonial genocide and slavery to contemporary fossil fuel production, as well as how the gentrification affects financially vulnerable groups. In her artistry, she often works with video-based art and installations. Her work has been presented internationally, including in the US, the UK, and at the 12th Berlin Biennale. Imani Jacqueline Brown is also part of Forensic Architecture, an interdisciplinary research agency that uses new technology to analyse and deliver testimony of crimes against humanity committed by states and corporates. The video shown in this exhibition is produced with the support of The Graham Foundation for Advanced Studies in the Visual Arts and VIA Art Fund.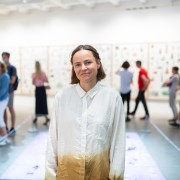 Alma Heikkilä (FI)
Alma Heikkilä is a Finnish artist. Through large-scale sculptures and drawings, she portrays the invisible processes that take place in the soil, in organic material as well as in human bodies. She explores ecosystems whose importance we have underestimated and still have limited knowledge about, even though they are important for the adjustments that need to be done in order to handle the climate change. The artist has participated in solo exhibitions at Kiasma in Helsinki, and at biennales in countries such as South Korea and Rumania. She has also shown her work at exhibitions in Sweden. Alma Heikkilä is one of the founding members of Mustarinda, a multidisciplinary collective that uses art and science in their work towards a post-fossil fuel culture.
Johannes Heldén (SE)
Swedish poet, visual artist and musician whose interdisciplinary practice takes the shape of poetry albums, installations, performance and digital works. In the recent projects Astroecology and Frist Contact, fiction and narration meet cosmic perspectives, ecology and artificial intelligence. Johannes Heldén often uses computer algorithms as co-creators of the works, combining them with water-colour paintings and collages. He approaches the practices of natural science from the past, who combined philosophy and scientific observations with the personal. Johannes Heldén has presented his work internationally, at exhibitions in cities such as Berlin, Istanbul, New York and Moscow. He is currently a part of the Kochi-Muziris Biennale in India.
My Lindh (SE)
My Lindh is an artist based in Stockholm whose practice spans a wide range of media such as text, video, audio, performance and installations. Her works – that often involves the viewer – explore perceptions of time as well as how ideas about nature can be reconstructed and reformulated. My Lindh's work has been presented at art museums and short film festivals in Sweden as well as internationally, at Moderna Museet in Stockholm, the Finnish institute in Paris and Kunstverein München.
Mónica de Miranda (PT/AO)
Mónica de Miranda is a Portuguese artist, filmmaker and researcher of Angolan origin. Through comprehensive film projects, she explores history, relations and emotions connected to urban environments and landscapes. Her work focuses on processes of decolonialisation as well as eco-feministic perspectives. Through practices such as drawing, audio and installation, she works in the intersection between fiction and documentary, where mental processes encounters wider historical narratives. Mónica de Miranda has participated in both solo and group exhibitions in countries such as Portugal, Brazil, Senegal and USA. She is one of the founders of the Hangar project, an artist residence in Lisbon.
Håkan Jonson (SE)
Håkan Jonson is an artist, programmer and publisher whose work includes digital art, print making and painting. With the help of artificial intelligence, he explores language and themes concerning authenticity, reproduction and the distinction between life/machine. Today, he is based in Stockholm and his art has been shown at museums such as Malmö Konstmuseum and Centre Pompidou in Paris.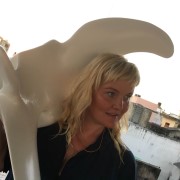 Signe Johannessen (SE)
Signe Johannessen is a Norwegian artist, based in Stockholm, whose sculptures, videos, drawings and performances speculate on hybrid bodies, historical paraphrases and the potential in the posthumous. With herself as the starting point, she explores power structures and how the anthropocentrism informs our relationship to other species and our understanding of ourselves. Signe Johannessen is one of the founding members of Art Lab Gnesta and her work is often inspired by its specific location. She is interested in the wetlands as ecological resource, and in ancient rituals and finds from graves, as well as in museum collections of bones from domestic cattle. In the newly formed group Hornvännen, several of these practices are brought together. Signe Johannessen has exhibited her work in Sweden as well as internationally. This year she is presenting her art in solo exhibitions at Örebro Konsthall and Oslo Konsthall.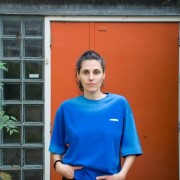 Eglė Budvytytė (NL/LT)
Eglė Budvytytė is an artist based in Vilnius and Amsterdam working at the intersection between song, poetry, video and performance. In her work, movements and gestures become technologies for a possible subversion of normativity, gender and social roles. She explores the persuasive power of collectivity, vulnerability and permeable relationships between bodies, audiences and the environments. Eglė Budvytytė's work has been shown extensively at biennales and festivals all over the world, in places such as Chicago, Riga, Sydney, Amsterdam, Lofoten, Dubai and Venice.